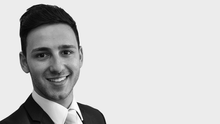 Born into a family so heavily involved in building and development it was only natural that Stefan Siciliano would dream to combine his love of property with his love of people, thus a sterling real estate career could be the only result.
Having successfully completed an apprenticeship and assisted on many levels within his fathers building company, Stefan is endowed with a solid knowledge of building, real estate trade and development uncommon even amongst agents many years his senior.
A lifetime resident of Adelaide's inner northern suburbs, Stefan has an intimate knowledge of each locale, an appreciation for the varying demographics of each area and is passionately committed to bringing excellent service to the diverse range of people who live here. "I love that this area of Adelaide provides something that appeals to everyone; all within easy access. There's Linear Park lining the Torrens River, easy access to the city, plenty of parks for the kids, great schools and plenty of shopping."
An passionate sportsman with an appreciation for a wide range of sporting codes, Stefan's own sporting participation over many years further developed his appreciation for the discipline, sacrifice and effort required to achieve success. Parallels that Stefan now draws in the refinement of his sales career and his pursuit of elite status in the real estate industry.
To meet Stefan is to meet someone you can trust; a genuine, dedicated and focused professional who will take great pride in assisting you through the entire selling process and immense satisfaction from exceeding your expectations in each and every area, along the way. Stefan combines boundless energy with a positive attitude to get the job done, and to do it well. Focused and driven, he is devoted to the task at hand and has a reputation for honesty and an unfaltering work ethic, always providing a six star service to his clients whether they are buying or selling.
Stefan found that Ray White City Edge reflected his own high standards of customer service and is excited to be involved with an organisation that recognises professionalism and high ethical standards, whilst also providing an amazing platform in training and technology to work from. "I am very proud to be associated with the Ray White brand" he says, "It stands for excellence in both service and results and that is precisely my personal philosophy."